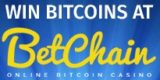 Bonus Amount: 1 BTC, $/€500
Min Deposit: €10
US Players: No     
How To Get: Until August 21st, every BetChain TOP wager will have a posibility to win extra money. The judges will count wagers on every slot on a daily basis, and if you were the most athletic spinner of the day you could step on the podium to win one of the following prizes:
• Gold Medalist – 50mBTC or €15.
• Silver Medalist – 10mBTC or €10.
• Bronze Medalist – 5mBTC or €5.
Tagged with: deposit bonus